On Saturday, while the rest of the family had to get up early for another Omnium, I got to stay home, go back to bed for a bit and then do a time trial, not the perfect start to the weekend but much better than spending the day watching riders go round and round and round in circles!
With the start only in Maiden Bradley and no one to get me there, I got to ride out there, going through the centre of Frome on the TT bike, disc wheel, deep front, aero helmet, Velotoze, any other TT kit, and a backpack on! I must've looked genius to anyone looking!
After a pleasant but quick ride out, I signed on and then had to get the people at sign on to pin my number, as I haven't yet mastered twisting round that much, close but not quite. Then a dump of kit, change of bottle, gel and I was ready to head down to the start, where I realised the number was as unaero as and elephant, so at the start I got Rob to  help me re-pin a bit.
I got underway quickly, however I soon found out I'd left my legs at Castle Combe, not great as I was still facing another 20 miles. So I just tried to settle into a rhythm, and tried to just block out the legs, which was mainly successful. A hard climb of the hill to Maiden Bradley hurt the legs, and I paid for this on the run down to Mere, where I got to do practice my track start after coming to a complete stop in traffic! 🙂
Going over aptly named Deverill Hill I started to find legs, and did a quick climb, being able to hold speed over the top, with some support from High5 with sugar and caffeine! Over the other side I caught a rider with cars backed up, where on the tight lanes passing was quite hard, so I sat on the cars until I could get round, and with rest, sugar and caffeine I opened up again, the legs actually starting to feel semi decent now, perfect timing.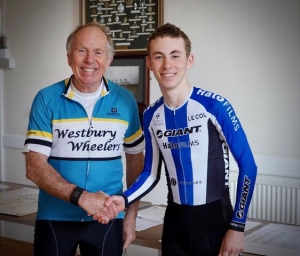 the final part of the TT was a constant gradual rise up to Maiden Bradley, a lane I've ridden up and down multiple times over the winter, normally finding a block headwind. Today seemed to be different though, and I was able to shift quickly up there, coming into my own. Just in time for the finish! A strong finish meant I came 4th and won the junior category, in a time of 1:02:15, not as bad as I thought it might be after a few km.
Thanks to Westbury Wheelers for organising the painful event, and thanks to the tubs for not puncturing through town, as that would've looked even better I'm sure! The normal thanks to sponsors for their support and help in my riding and development, it is massively appreciated.
https://morgancurlecycling.co.uk/wp-content/uploads/2018/05/westbury-hardrider.jpg
480
562
Morgan Curle
https://morgancurlecycling.co.uk/wp-content/uploads/2016/01/morgan-curle-300x47.png
Morgan Curle
2018-05-21 17:19:52
2018-05-21 17:22:26
Westbury Wheelers Hardrider TT