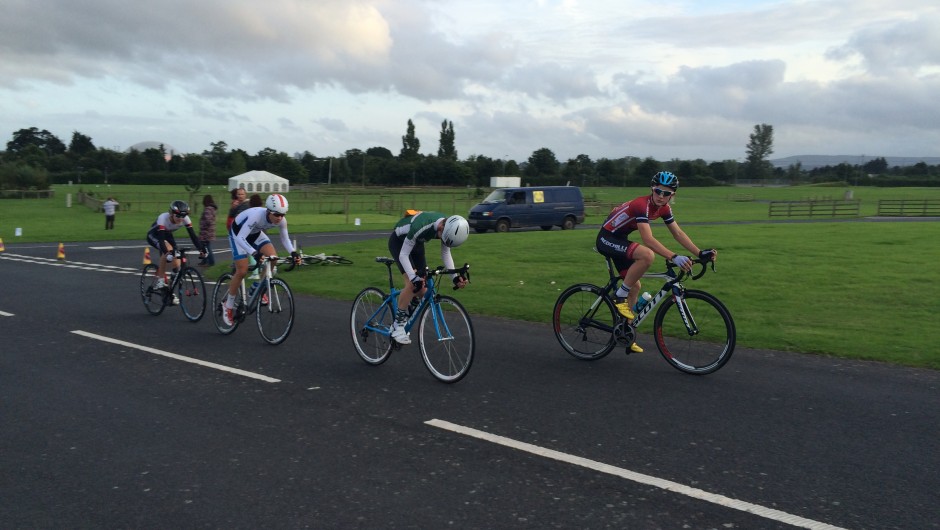 [vc_row type="in_container" scene_position="center" text_color="dark" text_align="left" overlay_strength="0.3″][vc_column column_padding="no-extra-padding" column_padding_position="all" background_color_opacity="1″ background_hover_color_opacity="1″ width="1/1″][image_with_animation image_url="34″ alignment="" animation="Fade In"][vc_column_text]
On Tuesday 25th August I travelled to Westpoint near Exeter for a race. At sign on I identified the stronger riders to look out for, and set about my warm up.
The course was new to me, and the Commissaire let us have a couple of warm up laps while he was waiting for the relevant information. I used this opportunity to check out the course for terrain, pot holes and corners. The course was a square circuit, with a hill on one side, a descent on another, a headwind and a tailwind side.
The race got under way and a few riders were quickly shelled out of the back. The pace then slowed a bit, and so going into the third lap I attacked up the hill. The attack was at speed and only 3 riders were able come with me, (who were the three I had identified at the sign on sheet). The four of us then worked to extend the gap, with me sometimes dropping off the back and then chasing back on after corners when I had just done my turn on the front and one of the others attacked.
Eventually came a time when I got back on and a rider attacked straight away, splitting us up. I caught the rider ahead of me, but due to chasing and the initial attack I didn't have enough energy to chase the other two down.
In the final few laps we had nearly caught the 2nd placed rider, but he had got enough of a gap to hold on. So I stayed on the wheel of the rider that I was with until after the final corner where I came out around him in the uphill sprint and took 3rd place.
I was very happy with that result on my first visit to the circuit, and pleased with my initial attack which split the race up. It was one of the best races of my season and the race where I was most aggressive… and it's another BC point too!
[/vc_column_text][/vc_column][/vc_row]
https://morgancurlecycling.co.uk/wp-content/uploads/2016/01/westpoint.jpg
530
940
Morgan Curle
https://morgancurlecycling.co.uk/wp-content/uploads/2016/01/morgan-curle-300x47.png
Morgan Curle
2015-08-26 11:02:55
2016-01-16 22:05:42
Westpoint, Exeter 25th August