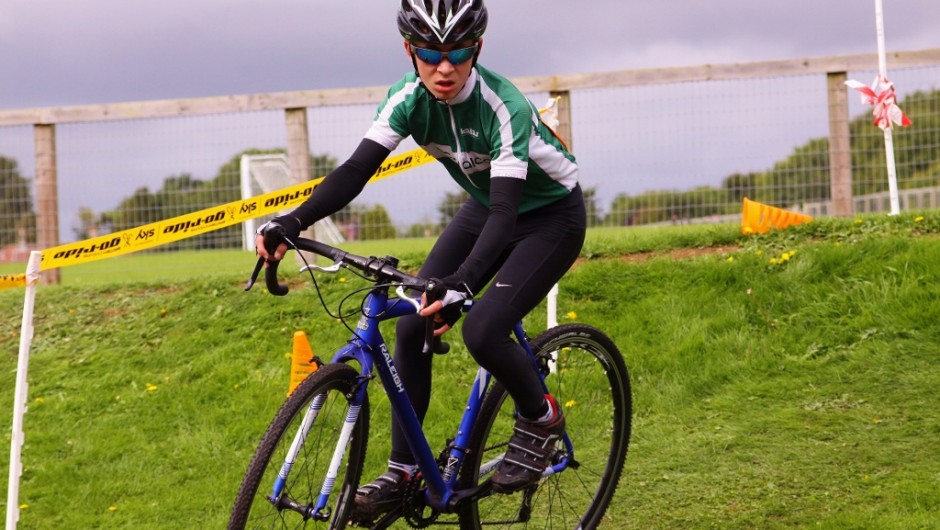 [vc_row type="in_container" scene_position="center" text_color="dark" text_align="left" overlay_strength="0.3″][vc_column column_padding="no-extra-padding" column_padding_position="all" background_color_opacity="1″ background_hover_color_opacity="1″ width="1/1″][image_with_animation image_url="44″ alignment="" animation="Fade In"][vc_column_text]On Saturday 5th September I had a fun morning out at Odd Down for the Sulis scorpions go ride Cyclocross.
The racing involved a TT, mass start race and a handicap race. The course was created on the circuit, including hurdles, mud and steep grassy inclines.
I rode a decent time trial at the second attempt, after sliding out on a mud descent the first time around, and came 2nd in that stage. For the next race we moved to a different part of the circuit where the mass start race was held. The route was simpler but had a lot of tight turns. However the hurdles I was able to hop over without getting off the bike. At the start of the race I sprinted off, not wanting to get stuck behind any riders on the tight course. This opened up a gap for me that closed a little over the race but I was able to stay ahead and came across the line in first place 8 laps later.
Due to the win in the mass start stage, I was in a good position heading into the last event, the handicapped race on the whole circuit. I got off to a good start, and was in a good position but then I slid out on the muddy and grassy ascent, costing me time. I got back up and then went to get going again, but the chain was off and jammed. Sorting that out cost more time, and so when I finally got back underway I knew my chances of winning were slim at best. Nevertheless I continued on and placed highly. It was then down to the organisers to add up the final points.
I expected to come second, however it was announced that both me and my friend Jos had tied on points. Due to him beating me in the handicap race he was given the win overall and I settled for second place.
It was a good morning of racing, great fun, and a change to the normal, smooth Tarmac that I've become used to.[/vc_column_text][/vc_column][/vc_row]
https://morgancurlecycling.co.uk/wp-content/uploads/2016/01/morgan-cyclocross.jpg
530
940
Morgan Curle
https://morgancurlecycling.co.uk/wp-content/uploads/2016/01/morgan-curle-300x47.png
Morgan Curle
2015-09-05 11:08:45
2016-01-16 22:05:16
A bit of CycloCross