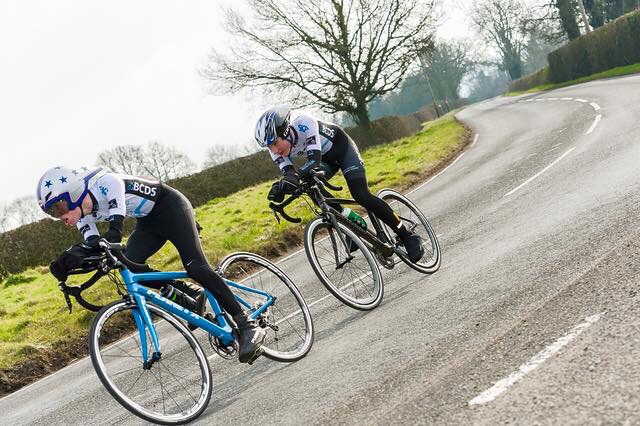 On Sunday 28th February, both me and Dad rode in our first ever Team Time Trial at the Severn Road Club 25 mile 2 up TTT. My partner was Charlie, a fellow BCDS academy rider, who I had previously ridden a TTT back in October, and Dad was riding with Charlie's dad, Simon.
As with last week's 10 mile TT, it was a case of getting there, signing on, getting ready, warming up and then doing the TTT.
I didn't get the longest warm up in the world, and we made it to the start just, with about a minute to spare after an TT effort to get there! (Note to self, find out how far the start is from HQ next time).
From the off I picked up the speed, but there was a killer headwind, so it wasn't a quick start like last weeks with a tailwind. The start was hard, and by the turn into the loop for the first time I was feeling the effort. Me and Charlie changed well, and split the work up, however where Charlie had raced at the track the day before he was a bit tired, so I tended to do the stronger headwind sections or the climbs. This helped our speed stay high, and also to make sure energy levels stayed as high as possible.
As it wore on, we kept working well together, and the miles went by.
On the second loop, familiarity helped us, and this meant that we could go quicker this time, as we knew what was coming up by way of turns, ups, downs and roundabouts. Coming out of the loop and into the headwind I did long turns, pulling it along to the final turn roundabout, which seemed never to come!
Once heading back Charlie's bigger gear was useful, and especially on the descents this came into play. On the way back I dug deep, to keep going, and through this I was able to keep doing work, in particular on the slopes and false flats.
Coming into the finish I gave it everything. So after the line I was fairly tired to say the least!
Our time for the course was 1:03:56, with the Dads riding a 1:05:17. We were both happy with the times, and knew that we had worked well together, and also enjoyed the event.
After handing numbers back, cooling down and watching some very quick times come in, we stopped off for food with friends from Bath Uni CC, and then it was time to return home and get some much needed rest!
https://morgancurlecycling.co.uk/wp-content/uploads/2016/03/image.jpg
426
640
Morgan Curle
https://morgancurlecycling.co.uk/wp-content/uploads/2016/01/morgan-curle-300x47.png
Morgan Curle
2016-03-01 21:47:42
2016-03-04 13:59:04
25 Mile TTT