Morgan has always enjoyed riding his bike, and started going out for weekend rides with his dad when he was 10. Soon after he was regularly riding 30 mile club rides on a Sunday, and enjoying the cake stops!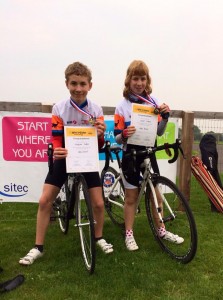 In 2013 he joined Sulis Scorpions YCA in Bath, and the fantastic coaches really brought his riding on. He regularly won the club mini TT, cyclocross and circuit races, and so towards the end of 2013 he decided he would like to try a proper British Cycling race.
He took part in three races at Odd Down at the end of the 2013 season, and he soon found out that he needed to work hard if he was to compete.
During the winter Morgan spent lots of time riding, and In 2014, his embarked on a first proper season of competing. A good first run out at Ilton early in the year saw him finish in 5th place, and things were looking promising – but then disaster struck at Castle Combe in the Easter Classic.
A crash at the front of the pack took down three riders, and unlike the two others, Morgan did not get back up. A trip to hospital confirmed a broken collarbone and a good part of the season would be missed.
But to prove that you can't keep a good man down, within a week a return to light training had happened. This and work sent from school helped pass the days until the sling came off and he was declared "fixed".
Morgan came back from injury to claim a couple of wins and other points places, finishing up with a national ranking of 54 in the under 14 boys. The set back had been a real blow, but he worked hard and got back on form towards the end of the season.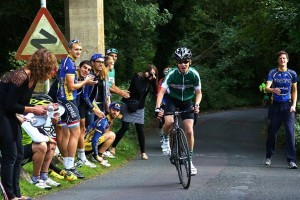 Wins came at Odd Down and Ludgershall, but I think nothing gave more satisfaction than the 3rd place achieved at Castle Combe in his first race back.
Morgan rounded off the season by winning the U16 youth category of the VC Walcot Hill Climb.
This was a very proud moment for him and a winners jersey he treasures. It really was a fantastic day, lots of noise and colour on the hill. Great support and cowbells rang to encourage the riders on their way.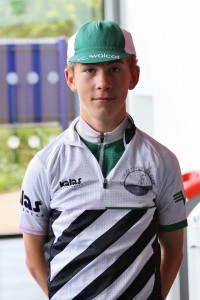 2015 saw a first season as an Under 16, a real step up from the previous year but a challenge that Morgan enjoyed.
He worked hard and managed to finish in among the lead bunch in most races he entered, picking up a few points here and there.
Towards the end of the season Morgan was really starting to ride well, and probably had his best showing at a race in Exeter. The course had a hill in it and Morgan attacked several times before winning a sprint for a top three finish.
A fantastic ride at the VC Walcot Hill climb in Octobervsaw him defend his U16 title, and he was only 4 seconds off of the Junior winning time – a title he intends to claim in the near future.
During 2015 Morgan got his first experience of National series competition – both road and track, and also enjoyed attending British Cycling Road and Track RSRs, these were fantastic learning opportunities which he thoroughly enjoyed and made the most of.

Towards the end of the year Morgan decided he would really like to push on with his development and started working with Epic Coaching. He has really enjoyed the structure and focus this has brought to his training, and is looking forward to all that 2016 has to bring.
For 2016 Morgan will be riding for the Bristol Cycling Development Squad Academy, and will be coached by Epic.